Main Menu
About the
Conference
Scientific Committee
Organizing
Committee
Important Dates
Registration &
Abstract Submission
List of Participants
Contact us
The Conference
Plenary Speakers
Program
Book of Abstracts
Social Program
Proceedings
Additional Info
Travel
Accommodation
Venue
Covilhã &
Surroundings
Photos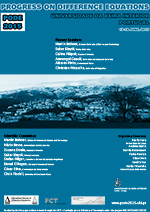 Plenary Speakers
Martin Bohner, Missouri University of Science and Technology

Martin Bohner is the Curators' Professor of Mathematics and Statistics at Missouri University of Science and Technology in Rolla, Missouri, USA. He received the BS (1989) and MS (1993) in Econo-mathematics and PhD (1995) from University Ulm, Germany, and MS (1992) in Applied Mathematics from San Diego State University. He was a Postdoc, sponsored by the Alexander von Humboldt-Foundation, at National University of Singapore (1997) and at San Diego State University (1998).

Martin Bohner is the President of ISDE, the International Society of Difference Equations. His research interests center around differential, difference, and dynamic equations as well as their applications to economics, finance, biology, physics, and engineering.

He is the author of four textbooks and more than 200 publications, Editor-in-Chief of two international journals, and Associate Editor for more than 50 international journals. His work has been cited almost 10000 times in the literature, including more than 2500 citations of his book "Dynamic Equations on Time Scales: An Introduction with Applications", co-authored with Professor Allan Peterson. Professor Bohner's honors at Missouri S&T include five Faculty Excellence Awards, one Faculty Research Award, and eight Teaching Awards.
Saber Elaydi, Trinity University

Elaydi received his PhD in 1978 from the University of Missouri with specialty in topological dynamics. In 1989 he joined Trinity University in San Antonio, Texas and served as the chair of the department of mathematics for 11 years. In 1990, he started working exclusively on difference equations and discrete dynamical systems. In the coming years, Elaydi put a lot of efforts and energy to unify these seemingly different disciplines under the umbrella of topological dynamics. He then implemented his plan by writing two books presenting these two disciplines, An Introduction to Difference Equations, now in its third edition (2005) and Discrete Chaos, now in its second edition (2008). On another front, Elaydi wanted to establish a research community working on difference equations. In 1994 he convened the first international conference ever on difference equations (ICDEA 1) in San Antonio and a year later he co-founded (with Ladas) the journal of difference equations and applications (JDEA).

Elaydi's relentless efforts were instrumental in the birth of the international society of difference equations (ISDE) in 2001 at ICDEA 6 in Augsburg. He was then elected vice president (2001-5) and later as the president of the society (2005-9).

In 2000, Elaydi began his journey to mathematical biology where he developed new mathematical theory and utilized it to address some biological questions, particularly in ecology. And in 2006, he cofounded (with Cushing) the journal of biological dynamics.

Elaydi's contributions to research and his service to the difference equations community continue to enrich mathematics and the lives of many who come in contact with him.
Galina Filipuk, Warsaw University

Galina Filipuk is currently an Assistant Professor at the University of Warsaw (Institute of Mathematics). She was a JSPS postdoctoral fellow at Kumamoto University (Japan) in 2004-2006, Research Associate at Loughborough University (UK) in 2007-2008 and a postdoc at the Institute of Mathematics of the Polish Academy of Sciences (2008-2009). She received a PhD degree from the Belarusian State University in December 2002.
Armengol Gasull, Universitat Autònoma de Barcelona

Armengol Gasull is professor at the Universitat Autònoma de Barcelona. He is coauthor of more than 100 papers and has collaborated with 45 researches around the world. His main research interests are ordinary differential equations: limit cycles, period function, bifurcation theory,... and discrete dynamical systems: global asymptotic stability, rational difference equations, periodic points, integrability,...
Alberto Pinto, University of Porto

Alberto Pinto is Full Professor at the Department of Mathematics, Faculty of Sciences, University of Porto and Researcher at INESC TEC's Laboratory of Artificial Intelligence and Decision Support (LIAAD).

Alberto Pinto's research focuses on Dynamical Systems and Game Theory, namely on renormalization in low dimensional dynamics, focal decomposition, pseudo-Anosov diffeomorphisms, stability of sunspot equilibria under stochastic perturbations and R&D projects in oligopoly models.

He is the author, together with David Rand and Flávio Ferreira, of the Springer Monograph Fine Structures of Hyperbolic Diffeomorphisms and has published over 50 scientific papers, some of them were published in the most prestigious international journals such as, among others, The Annals of Mathematics, Communications in Mathematical Physics, Transactions of the American Mathematical Society, Journal of The London Mathematical Society and Bulletin of The London Mathematical Society. Alberto Pinto is Invited Editor in the published Springer volumes Dynamics, Games and Science I and II, and Modeling, Dynamics, Optimization and Bioeconomics I.

Alberto Pinto is the founder and Co-Editor-in-Chief, together with Michel Benaïm from University of Neuchatel, Switzerland, of the Journal of Dynamics and Games (JDG), published by The American Institute of Mathematical Sciences (AIMS).

Alberto Pinto holds a Special Visiting Researcher Grant at Instituto de Matemática Pura e Aplicada (IMPA), Brazil.

Since 2011 he serves as President of the Portuguese International Center for Mathematics (CIM).
Christian Pötzsche, University of Klagenfurt

Christian Pötzsche (PhD 2002, University of Augsburg, Habilitation 2010, Munich University of Technology) is professor of applied analysis at the Alpen-Adria-University Klagenfurt, Austria. His research centers around the qualitative theory of nonautonomous dynamical systems and particularly their bifurcation theory. In recent years he became interested in functional analytical and operator theoretical approaches to this field.